Ryanair emergency descent 'forced by maintenance errors'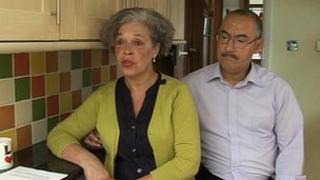 A passenger jet forced to make an emergency 21,000ft descent was not properly maintained, a report says.
Thirteen people were hurt when the captain of the Ryanair service was forced to make the manoeuvre when the aircraft lost cabin pressure.
Solicitors for some passengers on the Milan-to-East Midlands flight on 4 April said they had "serious concerns" over pressure controller failures.
Ryanair said it would follow any recommendations in the final report.
The flight from Milan Bergamo airport had 134 passengers on board.
'Can't afford mistakes'
The crew took the plane from 31,000ft to 10,000ft in five minutes to make sure the passengers could breathe and then diverted to Frankfurt-Hahn airport.
The interim report by the German Federal Bureau of Aircraft Accident Investigation found that when the main pressure controller failed, its back up also failed because it had been incorrectly installed.
It also highlighted possible changes in how aircraft maker Boeing could make the controller easier to fit.
Nottingham couple Melvin and Jacqueline Frater, who were on board, said: "It was as bad as you would expect - and worse. You just can't believe it is happening.
"You can't afford to make those sort of mistakes when so many lives depend on the safety of the aircraft."
Solicitors Irwin Mitchell said: "While it is welcome that the causes of this incident have been identified in the interim report, a fault with one pressure controller and a badly designed shipping plug on the other gives rise to serious concerns."
A Ryanair spokesman said: "Ryanair notes the German Authority interim report into an aircraft depressurisation in April 2012.
"The German report suggests that Boeing redesigns a 'black shipping plug' to make it more 'clearly visible' for maintenance staff, and Ryanair will follow any recommendations made by the final report."
A final report on the incident is due to be published at a future date and its findings are subject to possible alteration.