'Bus fare' rapist Joseph Moran jailed for Nottingham attack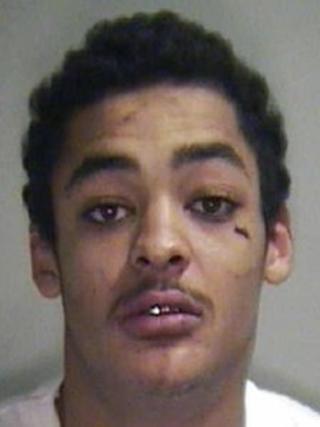 A teenager who raped a woman after she was barred from a late-night bus because she was 20p short of the fare, has been jailed for at least six years.
Joseph Moran, 19, from Walker Street, Sneinton, was given an indeterminate sentence at Nottingham Crown Court.
After his victim, 22, was told to get off the bus, at 03:00, Moran dragged her into a park and raped her.
In June, the bus company Trent Barton said the driver had been dealt with through its disciplinary procedure.
During his trial, Moran tried to claim he had actually found his victim in distress and was trying to help her.
Mother pulled over
Jurors heard he had crashed a car in the hours leading up to the attack.
He was found guilty of rape and wounding with intent, after a trial in June, and must serve at least six-and-a-half years before being considered for parole.
Passing sentence, Judge James Sampson said of Moran: "You got drunk, took drugs, crashed a car, and got involved in a fight.
"The victim is a hardworking student, who, for the want of a small act of kindness was left vulnerable."
His victim had tried to board the night bus at about 03:00 GMT on 10 December 2011, the jury heard.
CCTV footage played to the court showed her standing on the bus for eight minutes as she looked for change and asking the driver to let her travel.
None of the bus passengers offered her the remaining 20p and she was forced to ring her mum to get a lift home.
Defence 'reprehensible'
After getting off the bus, the victim walked out of the city centre, on Mansfield Road, and as she approached Forest Recreation Ground, Moran dragged her into the park.
Moran was then disturbed, coincidentally, by the flashing lights of a police car that stopped the victim's mother.
She had been pulled over by police nearby, who were suspicious because she was driving slowly.
In passing sentence, Judge Sampson told Moran his court defence that he was helping his victim was reprehensible.
"You claimed to have come across her and claimed to have come to her aid," he said. "It's a line you maintained throughout your trial.
"It's obvious that you're a pathological liar and a man without an ounce of remorse or shame."
In a statement, his victim thanked those involved in bringing her attacker to justice, including her family and staff at Queen's Medical Centre.
'Tremendous fortitude'
She said: "Also [the police] offered a great deal of pastoral support and showed incredible sensitivity towards me, something that often goes unrecognised. For that I will always be grateful.
"I am now moving forward with my life and I ask that people respect that and allow me and my family to maintain our privacy."
Det Ch Insp Rob Griffin, who was in charge of the investigation, said: "This case has attracted a lot of attention in the media, not just because of the brutality of Moran's attack, but due to the circumstances leading up to the attack.
"Despite her physical, mental and emotional scars, [this] young woman has shown tremendous fortitude in not letting it ruin her life.
"We have been humbled by her bravery and resilience and wish her only the very best."