The Drifters devastated by minibus thefts in Nottingham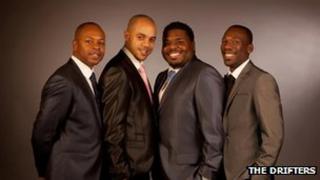 US pop group The Drifters have had thousands of pounds worth of equipment stolen from their minibus in Nottingham.
The band, which had a hit with Under the Boardwalk, had stopped for a meal at Wilford Farm Inn, in Clifton Lane, Wilford, at 20:00 BST on Monday.
Laptops and ipads containing family pictures were also taken.
Lead singer Michael Williams said that they were devastated by the theft but insisted their tour would continue.
The group, which has had 65 members since forming in 1953, had been in the city on a publicity shoot.
Nottinghamshire Police have appealed for information.