Dam Busters composer Eric Coates: 'New' songs found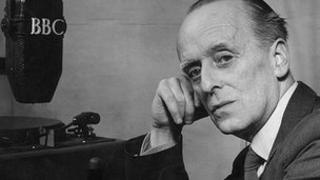 Three songs by the composer of the Dam Busters theme, Eric Coates, are to be heard for the first time.
Coates, a prolific songwriter and composer, is best known for his stirring music for the 1955 film.
The handwritten pieces were donated to the Eric Coates Society by a woman whose mother had acquired them with other sheet music.
The songs will be performed in the town of his birth, Hucknall in Nottinghamshire, on 6 October.
Nottinghamshire County Council - which helped to reproduce the manuscripts - has presented three bound copies of the music to the Eric Coates Society at Hucknall Library.
Coates, who was born in 1886, also composed Halcyon Days, which was used as the theme to the 1967 BBC TV series The Forsyte Saga, and By The Sleepy Lagoon, which is still used for the BBC Radio 4 programme Desert Island Discs.
The newly discovered songs were penned before he went to study at the Royal Academy of Music in London at the age of 20.
'Great excitement'
The first piece, Love's Philosophy, is dated August 26 1906, while the second very short song is called To A Maiden. Both are dedicated to a Sybil Walsh and signed "To Sybil with love from Eric."
A note on the sheet of the third song, called Tit For Tat, said it was "composed expressly for and dedicated to Celia Welsh on September 14th 1906".
Peter Butler, secretary of the society, said: "I received an offer from a lady in Devon called Ann Parsons who had some music written by Eric Coates and enquired if we as a society could find them a good home.
"Naturally I accepted the offer not knowing quite what to expect, other than three pieces which Ann said were genuine original handwritten songs.
"When they arrived at our chairman Geoff Sheldon's house he rang in great excitement to say that they were indeed originals."
The songs will be performed at the Central Methodist Church.