Nottingham's Trent Lane Depot will not be listed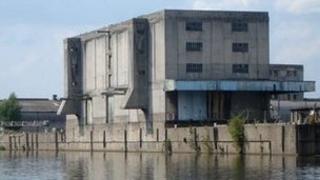 A demolition-threatened landmark near the River Trent in Nottingham is not to become a listed building.
A campaign had begun to save the now derelict Trent Lane Depot, built between 1928 and 1931, which was used as an inland port until the 1970s.
But English Heritage said it was not historically significant enough to be given national-listed status.
Historian Chris Matthews who started the campaign said the news was disappointing.
A spokesman for English Heritage said: "While the building is undoubtedly of local interest we don't believe it is historically or architecturally significant enough to be given national listed status.
"Although the design of the building is impressive, it lacks the distinctive qualities of other listed canal side warehouses and doesn't make up part of a significant early industrial landscape."
Mr Matthews said: "It is disappointing that English Heritage has decided that Trent Lane Depot should not be saved from the threat of demolition.
"Though there is little else the campaign can do to prevent demolition, the petition to save the depot will remain open so that people can leave their opinions with the relevant authorities."
The owners of Trent Lane Depot have already started to clear the site to make way for housing.
Trent Lane Depot, also known as Trent Basin, operated as an inland port where freight like metal, oil and cocoa, was shipped, via the Humber and River Trent, to and from Hull.