Balwinder Dhami: Son fears robbers will hurt others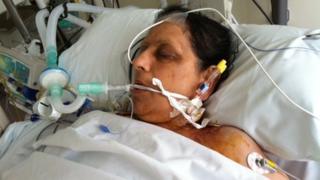 The son of a grandmother attacked in her home by a gang of robbers fears the men will hurt other people.
Balwinder Dhami, 64, had a heart attack five days after being assaulted at her home in Kimberley, in Nottinghamshire.
Despite a £5,000 being offered nobody has been arrested over the attack, which happened four weeks ago on 25 August.
Mrs Dhami is still in hospital where her son said she is in a "life-threatening" and "high-risk" condition.
"It's been extremely frustrating to watch my mum suffer the way she is at present," said her son, Harnack Dhami.
"The gang of four are still out there and will attack again soon as all they got was £24.
"Every day all we are doing is praying she will get well."
The men forced their way into Mrs Dhami's bungalow in Bassett Close after she answered the door at about 19:50 BST.
Dragged by hair
They held a knife to her throat, repeatedly punched her, and sprayed her face with bathroom cleaning fluid.
Mr Dhami said his mother was also dragged around by her hair and fell unconscious during the 15-minute attack.
A fizzy drink was poured over her head and the men threatened to pour boiling custard over her while demanding money.
As well as the £24 they took Mrs Dhami's necklace and some of her bangles.
Since having surgery after the heart attack Mrs Dhami's recovery has been aggravated by infections.
Her most recent operation was on Friday, to repair a hole in her heart.
A spokesperson for Nottinghamshire Police said: "There have been no arrests since the reward was offered.
"The reward is still being offered so if anyone has any information about the culprits or whereabouts of the jewellery then let us know."
The offenders are described as white, aged between 18 and 21, and all about 5ft 6in to 5ft 7in tall, with three having short hair.
One is described as being plump and was wearing a distinctive light blue hat and white T-shirt.