A46 Collingham crash: Victim named as Richard Hunter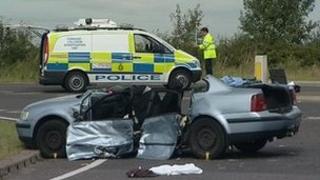 An 84-year-old man who was killed in a three-car crash on a Nottinghamshire road has been named by police.
Richard Hunter, of Lincoln, died following a crash on the A46 near Collingham which injured two other people in the same car.
He was airlifted to Nottingham's Queen's Medical Centre after the accident on 13 September but died from his injuries two days later.
The two women, aged 84 and 54, both remain in hospital.
The 84-year-old woman is in a serious condition while the other woman is stable.
The driver of one of the other cars was taken to Lincolnshire General Hospital where she remains in serious condition.
Police have appealed for witnesses.