Chilwell School travellers leave burning caravan behind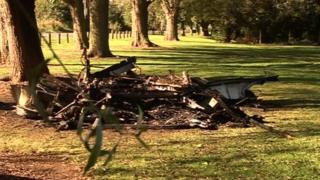 Travellers who set up camp on a school playing field have moved, leaving behind a burning caravan.
Firefighters extinguished the fire after being called to Chilwell School, in Nottinghamshire, at 22:08 BST on Friday.
Head teacher Ian Brierly said it was "fantastic" the camp had gone as it will save the school thousands of pounds in legal costs.
Mr Brierly hoped the caravan's remains could be removed at minimal cost.
"We were greatly concerned about the cost to the school and we were due to pay more money on Monday morning to go to court," he said.
Ten caravans arrived on Thursday.
The school had already spent £350 serving a notice on Friday morning for the travellers to leave.
"They did suggest to the people that gave it to them that perhaps they had made a mistake by camping on a school field, as they thought it was a leisure centre," said Mr Brierly.
"I would like to think that they have moved because they thought it was too much hassle, or because they had made a mistake."
Before leaving, traveller Jimmy Price said the group were using the field as they "had nowhere else to go".
"All I want is a site - I am getting too old for this now, travelling around. I would love to settle down," he said.
A spokesperson for Nottinghamshire Police said the force was not investigating the fire.