Nottingham pubs and clubs face late-night police levy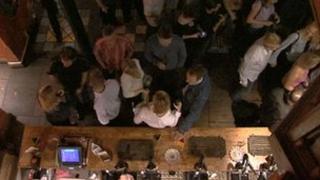 Nottinghamshire Police Authority has supported a move to introduce a late-night policing levy on pubs and clubs in the city.
The charge, which would vary from £200 to £4,000 a year, would be used to pay for extra policing.
Licensed premises which stay open between midnight and 0600 would pay the levy.
Pub owners said the extra charge would be unfair as they already pay taxes which cover policing.
Clean-up costs
The final details on the timing and calculation of the fee will be made by the city council's licensing authority.
The levy would vary depending on business rates with a large city venue paying more than a smaller one.
Mike Meehan, vice-chairman of Nottingham Pub and Club Watch, said his members already contribute to the Business Improvement District (BID) and should not have to pay any more.
"We already pay more than £1,000 in a local business improvement levy - this is just a terrible double tax.
"If we are to pay, then the BID will have to go - we are not going to pay twice so it is either the late-night levy or BID - that's it."
Nottingham City Council leader Jon Collins, who is also chairman of the city's police authority, said: "The scale of contribution we are asking for is pretty limited and for most pubs and clubs... it would be less than the equivalent of a night's takings.
"This is a small contribution towards what is a very significant cost.
"Why should all council taxpayers pay for the additional clean-up and policing costs that are generated by licensed premises that stay open beyond midnight?"