Bone marrow appeal for Nottinghamshire leukaemia boy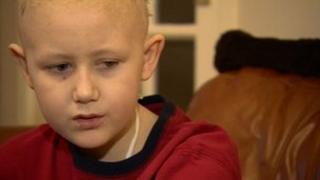 The family of a nine-year-old boy who has raised thousands of pounds for charity are hoping a bone marrow appeal will help save his life.
Archie Andrews, of Nottinghamshire, has fought against leukaemia since he was three, and recently suffered a relapse.
He has helped with fundraising events for the Queen's Medical Centre child cancer ward in Nottingham.
A bone marrow donor session will be held at Nottingham Forest Football Club's City Ground next Friday.
Archie said: "I would say thank you to anyone who comes forward."
His mother Nicki Andrews said: "It has been totally horrific really. When we got to five years after diagnosis we started to breathe again .. and relax.
"And Archie was getting stronger so it came as a total shock (when he suffered a relapse).
"The last four months have been shocking and Archie has been in the high dependency unit with septicaemia but he is getting stronger and hopefully ready for this transplant."
The special bone marrow awareness session will take place in memory of Nottingham boy Joel Picker Spence, who died before a transplant could take place.