Anthony Nolan Trust: Teenage bone marrow donors sign up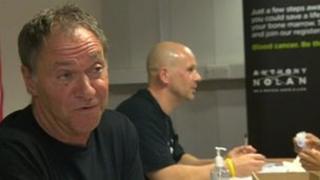 Nottinghamshire teenagers have become the youngest people to sign up as bone marrow donors, according to an Anthony Nolan Trust educational project.
Register and Be a Lifesaver (R&Be) said the first recruitment sessions were held on Monday at the National Church of England Academy in Hucknall.
The trust said it matches donors' blood stem cells to people with blood cancer who need lifesaving transplants.
It also said that including 16 and 17 year olds would save more lives.
Anthony Nolan Chief Executive Henny Braund said: "Lives are lost if there is a delay when someone from the register is matched with a blood cancer patient.
"We regularly discover that older donors can no longer donate because they have developed conditions like heart disease or diabetes.
"We are boosting the size of the register but reducing the average age of potential donors to ensure doctors can pick the healthiest matches."
Raise awareness
R&Be was set up by Nottinghamshire man Adrian Sudbury in 2006 when he was diagnosed with leukemia. He died in 2008 aged 27.
Mr Sudbury spent the final few months of his life campaigning to raise awareness of bone marrow donation.
The project's regional mentor and father to Adrian, Keith Sudbury said: "It's so good that 16 and 17 year olds can now join the Anthony Nolan bone marrow register.
"It is also very fitting that someone in Nottinghamshire will be the first 16-year-old in the world to actually join."
The Anthony Nolan Trust said those aged 16 to 30 were now eligible to join the register where previously the age range was between 18 and 40.
It said there were more than 455,000 people on the Anthony Nolan register, but men and women under 30 accounted for just 23%. It also said potential donors could sign up online.