The Grove School undergoes £2m repairs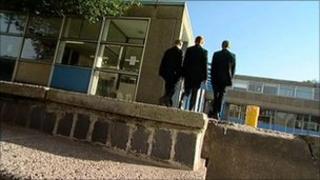 Repairs costing £2m are under way at a Nottinghamshire school that is due to be rebuilt in 2014.
The county council said the repairs were necessary and it was "money well spent" for current pupils at The Grove School in Newark.
It is one of the county's 15 schools to be rebuilt under the government's Priority School Buildings Programme.
The council said it would spend £4 million on other schools in Newark and Sherwood in this financial year.
It said the work included roof and structural repairs, weatherproofing, refurbished toilet blocks and electrical maintenance.
Pupils' motivation
The money is coming out of the council's three-year £100m Schools Capital Refurbishment Programme for the most pressing repairs needed for Nottinghamshire school buildings.
The Grove School is converting to Newark Academy on 1st November and will be sponsored by Lincoln College.
Committee chairman for children and young people's services, councillor Philip Owen, said: "We know that this work won't address the long-term structure of the building, (but) it should have a significant impact on the feel of the buildings.
"Lincoln College... is also fully behind what we're doing to refurbish the school prior to its rebuild.
"If putting repairs right, if adding a coat of paint has (an) effect on pupils' motivation, then it's money well spent."
Mr Owen said The Grove School rebuild is one of the later proposed start dates in third quarter of 2014/15, and that he had written to the Education Funding Agency to see if it would consider bringing rebuilding work forward.