Stone for Ashley Clarkson added to Mansfield war memorial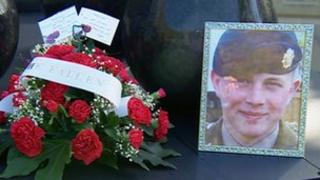 A Nottinghamshire soldier who took his own life after serving in Iraq has been honoured with a stone in his home town's war memorial.
Pte Ashley Clarkson, 23, from Mansfield, had been suffering from post-traumatic stress disorder (PTSD) when he died in March.
Family and friends saw the stone unveiled in the town's Carr Bank Park.
His mother, Mary Fells, said her son had never recovered from seeing a young girl and a baby die in an explosion.
She said: "He couldn't comprehend it. He felt really guilty that it was his job to look after civilians and he'd let everyone down.
"When he came back from Iraq he wasn't my son."
Ashley was diagnosed with PTSD in 2009 and left the army last year before taking his own life in March.
Now the former private's name has taken its place alongside other soldiers at the memorial, which was installed last year by the Mansfield Heroes Memorial Fund.
Ms Fells said: "I feel very overwhelmed that Ashley's being honoured. For him to go into the rose garden is absolutely beautiful."