Nottingham council to track down owners of 'unfinished' tower block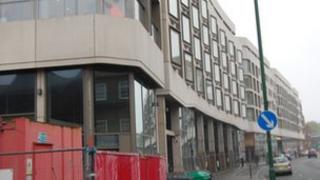 Nottingham City Council is trying to track down the owners of a £36m tower complex that is still unfinished, five years after construction started.
Southreef on Canal Street is owned by Dubai-owned firm Nottingham One.
Council deputy leader Graham Chapman said the city was determined to meet with owners to encourage them to complete the project.
No-one from Nottingham One was available for comment.
The property has had several owners since work began in 2007.
'Quite distant'
Mr Chapman said: "We can look at planning permission such as change of use and try to get people together - maybe we can arrange a meeting between the owners and a local college.
"The problem is the new owners are based in Dubai … so they are quite distant.
"The biggest problem has been the tower - which was going to be an office block - but that was an over-development and eventually they applied for change of use to a hotel."
Student Saeed Al-Ahbabi, who lives in a flat in the complex, said: "The floor is not ready and the walkway to the canal is closed - it is not really well done.
"Some lights are not working - it is annoying because it is rubbish and it is not really ready."