Nottingham on-street parking charges 'simplified'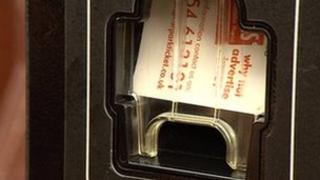 New on-street parking charges are being introduced in Nottingham in an effort to increase city centre trade.
Businesses criticised the city council when, last November, it started charging people to park in the evening and on Sundays.
The charges were changed in February, but the new system aims to be simpler.
From 5 November it will cost £1 to park anywhere in the city centre, but how much time drivers get will depend on the location.
The council consulted businesses when reviewing the charging system.
Jeff Allen, chairman of Nottingham Retail Business Improvement District, has backed the changes.
"New, simplified and more flexible charges and waiting times for on-street parking could give the city a significant boost," he said.
"In this economic climate particularly, city centre businesses need all the help they can get to attract customers."
Parking zones
All maximum stay times for on-street parking have been removed, and the council believes Nottingham is the first big city where this has been done.
Mr Allen added: "Parking can't be a barrier to visiting somewhere and so the removal of maximum stay is particularly helpful."
Between 08:00 GMT and 18:00 GMT Monday to Saturday, £1 will allow someone to park for 30 minutes in zone one, in the heart of the city.
During the same period, £1 will allow someone to park for one hour in zone two, and two hours in zone three.
On Monday to Saturday evenings, there will be a £1 flat fee to park in all zones between 18:00 GMT and 20:00 GMT.
On Sundays, £1 will allow drivers to park for two hours in zone one, and in zones two and three there will be a flat £1 fee for all day.
On-street parking will be free from 20:00 GMT to 08:00 GMT every day.
Councillor Nick McDonald, portfolio holder for jobs, skills and business, said: "We hope that independent shops, theatres and restaurants will particularly benefit from these new arrangements."