Mansfield teens arrested after freight train derailed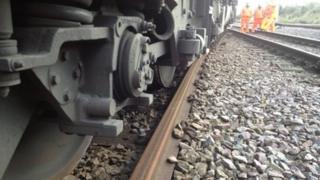 Two teenagers have been arrested after stones piled on to rail tracks in Nottinghamshire derailed a freight train.
The service, which was carrying coal to a nearby power station, came off the rails at the Thoresby Colliery junction in Edwinstowe early on 9 November.
It was travelling slowly, but British Transport Police (BTP) said it was lucky no-one was hurt.
Two boys, aged 15 and 17 and from Edwinstowe, have been bailed.
They were questioned on suspicion of endangering safety and criminal damage.
Insp Granville Sellers said: "Trespassing and vandalism on the railway tracks is extremely dangerous.
"There is a risk to people working on the network and damage to property can result in serious injury, or even death."