Nottinghamshire PCC election: Labour's Paddy Tipping wins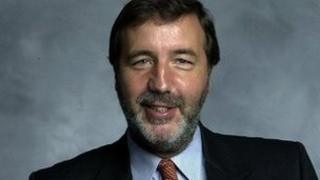 Labour candidate Paddy Tipping has been elected as Nottinghamshire's first police and crime commissioner (PCC).
Two candidates were eliminated in the first round, leaving ex-MP Mr Tipping and former police officer Malcolm Spencer in contention for the post.
After the second round was counted, Mr Tipping won with 65,919 to Mr Spencer's 52,789 votes.
The new PCC will set spending plans and has the power to "hire and fire" the chief constable.
All the candidates said the low turnout was disappointing.
'People's commissioner'
Mr Tipping said he hoped the government would learn from holding an election in mid-November and "keeping it very low key".
He said he was ready to tackle the funding issues facing Nottinghamshire Police.
"I am determined to make some savings at senior officer level and make savings at the estate to procure equipment better to provide more money for front line officers," he said.
"Her Majesty's Inspectorate of Constabulary say cuts of 12% are possible without affecting front line policing.
"We have got a 20% cut here and Nottinghamshire Police are traditionally underfunded by £11m a year.
"I don't want to be a police commissioner, I want to be a people's commissioner. I want the people of Nottinghamshire to feel their concerns are my concerns."
Mr Spencer, an ex-officer with 37 years policing experience, said he felt he had come a "credible second" but also felt candidates were let down by the timing of the election.
"If [the government] are going to have an election on this important matter... then there should have been much more publicity, much more debate about the election itself," he said.
'Embarrassing' result
Conservative candidate Tony Roberts said he felt a "little embarrassed" about the result.
"If you are a representative of the government in power and they are not very popular at the moment, you're not going to get much of the vote." he said.
"I do think what would have made a difference would have been if every candidate had had a free mailing like they do for a parliamentary constituency and at least the people would have been saying 'well, we know who we're voting for or we know who we are not voting for'."
Dr Raj Chandran, an independent candidate who was eliminated after the first round, said: "You've got to accept it if 83% of people didn't come out to vote.
"So whether the winner has a mandate to run the authority is debateable.
"I am saddened that this has happened. I thought that with the fight I provided, the results would be different."
Nottinghamshire Police is made up of about 2,250 uniformed and plain clothed police officers, 1,500 police staff, 275 Police Community Support Officers (PCSOs) and more than 450 Special Constables and other volunteers.
The forces about one million people living and working in the county.
Nottinghamshire's Police and Crime Commissioner will earn an annual salary of £75,000.