Residents should watch water levels: Environment Agency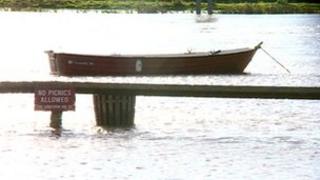 Hundreds of householders have been urged to take flood precautions in Nottinghamshire after heavy rainfall over the weekend.
Flooding caused damage to homes across the county and some roads were closed.
Clean-up crews in villages including Woodborough, Lowdham, Lambley and Colston Bassett have placed sandbags around properties.
The Environment Agency told residents in flood-prone areas to watch water levels closely.
Roy Stokes, flood risk manager for Environment Agency, said: "A lot of ground is saturated so there is nowhere for the extra rain to go.
"Smaller water courses are quicker to react and have taken the impact.
"Flood defences across the county are doing their jobs which is really good... but there are still a few surface water problems to deal with."
Race meetings at Southwell Racecourse on Monday and Tuesday have been abandoned due to waterlogging.
Mr Stokes said: "Hopefully we will get some respite but there is more rainfall expected for Monday and Tuesday."
"Any further rain we do get this week will see river levels rising quicker than they normally would because they are already full... so people need to keep an eye on things."
Nottinghamshire Police said cars were abandoned in flood water in Hucknall, north of Nottingham, on Saturday evening.
Long Lane, in Hucknall, and the villages of Lowdham, Colston Bassett, Woodborough and Lambley were some of the areas affected by the heavy rain.
Several flood warnings were in place along the River Trent, including Newark and Lenton.