Rushcliffe housing plans criticised by government inspectors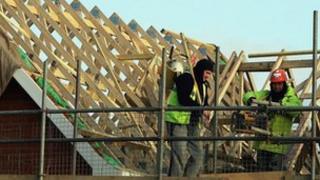 A government report has criticised a Nottinghamshire council for not building enough new homes in the area.
The Planning Inspectorate has said Rushcliffe Borough Council's target to build 9,400 houses by 2026 is "substantially fewer" than the 13,400 homes outlined by the regional plan.
Inspector Jill Kingaby raised "serious concerns" about the council's plans, as well as their legality and soundness.
But council bosses called the regional figures "ridiculous and unjustified".
In 2010 the borough council decided to draw up its own local plans which it said involved working with towns and villages in Rushcliffe to agree how many homes should be planned for the next 15 years.
This came after residents protested against proposals to build thousands of new homes on greenbelt land in the area.
'Difficult balance'
However, Ms Kingaby has now said the number of changes made by the council was "worrying" and has requested further evidence to justify how the new plan meets Rushcliffe's housing needs.
Neil Clarke, leader of Rushcliffe Borough Council, said: "The council has worked hard to strike a very difficult balance between protecting the greenbelt and the character of Rushcliffe on the one hand but accepting new houses and jobs are needed.
"I am extremely concerned and angry that if the inspector doesn't feel that we have provided for enough housing to meet the need, then we will be forced, against our residents' wishes, to undertake the very difficult task of allocating more land, which will probably have to be in the greenbelt."