Hyson Green gang members jailed for 'revenge' shooting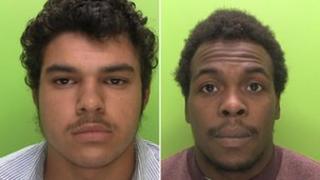 Two Nottingham gang members have been jailed for a "revenge" shooting.
Ashton Alexander, 20 and Remay McKenzie, 22, were sentenced for firing two shots at a car in Hyson Green, Nottingham, in April.
The pair, part of a gang called Rad MPR, admitted the attack was retaliation after their friend had been shot a month earlier.
Judge Michael Stokes at Nottingham Crown Court said this was a case of "gangland violence".
Alexander, formerly of Radford Road, Hyson Green, was sentenced to 11 years for possession of a firearm with intent to endanger life.
McKenzie, formerly of Canterbury Avenue, Radford - who fired the two shots - was sentenced to 14 years for possession of a firearm.
He also pleaded guilty to affray and possession of cannabis for which he received a 12-month sentence to run consecutively.
A previous charge of attempted murder against the pair was dropped after prosecution said their intention had been to wound, not to kill.
'Behaved liked hoodlums'
The court heard that Reiss Wilson, a friend of Alexander and McKenzie and a fellow gang member, was shot in the back in March.
In retaliation, the pair had targeted the man responsible, said the prosecution.
On 30 April Alexander and McKenzie followed a silver Citroen car which contained three men.
As the car approached the junction of Birkin Avenue and Gregory Boulevard, Radford, McKenzie got out of the car and pointed the shotgun through an open window of the Citroen.
He fired one shot into the car. Then as the driver attempted to get away, McKenzie pursued the vehicle on foot and fired a second shot which hit the back window.
A man sitting in the back seat of the car, who had been the intended target, received minor injuries.
On sentencing, Judge Stokes said it was a miracle no-one had been seriously injured.
He said: "The two of you, particularly McKenzie, thought you could behave like a couple of gangsters.
"You strut your way around the place and behaved like hoodlums. You thought you were untouchable, well you're not."