Former union leader Neil Greatrex has to pay back £150,000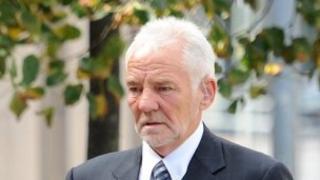 The Charity Commission has welcomed an order to make a former union boss pay back the £148,628 he stole from charity.
Neil Greatrex , 61, has to pay back the money in the next month or face a further three years in prison.
The commission said the order would serve as a warning to others.
In April the past president of the Union of Democratic Mineworkers was jailed for four years for stealing from a miners' care home.
The total amount he is now ordered to pay is £201,327.51, adjusted for inflation and including costs.
Greatrex, of Stanley, near Teversal, Nottinghamshire, was a founder member of Nottinghamshire based UDM in 1985 when it split from Arthur Scargill's National Union of Mineworkers.
Between 2000 and 2006 he stole from Nottinghamshire Miners Charity, of which he was a trustee.
'Pretty awful crime'
The group, whose future remains uncertain, ran a Lincolnshire care home for sick and elderly miners.
Michelle Russell, the Charity Commission's head of investigations and enforcement, said: "Stealing from a charity of money that's intended for people who really need it is a pretty awful crime.
"We are obviously really pleased that some of that money will be recouped and go back to where it was intended to be spent."
She added that this order would serve as a warning to any other potential thieves.
The commission said the money would either be returned to the charity or its beneficiaries or other charities.
The order was made under the Proceeds of Crime Act at Birmingham Crown Court. He was given 28 days to make the payment or serve three more years in jail.
Nobody was available to comment from the UDM.