Bingham Costa Coffee approved by Rushcliffe Council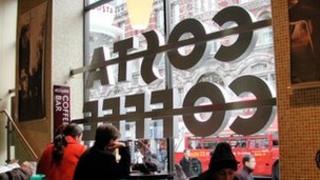 An independent cafe owner has said the arrival of a Costa Coffee in her town will "open the floodgates" to chains.
Julia Williams said she did not intend to challenge the decision of Rushcliffe Borough Council which gave permission for a branch of Costa to open in the Nottinghamshire market town of Bingham.
She said over 2,000 people signed her petition at her cafe and online.
Costa withdrew its plans to open a branch in Totnes, Devon, after 5,000 signatories opposed it.
'Swamp the market'
Ms Williams, who owns the Picture Cafe, said: "Bingham is very, very popular because of the fact it is an independent, pretty little market town.
"Once you open the floodgates and let [corporate companies] in you are going to swamp the market with them.
"They can afford to pay more rent which means it is squeezing the little man out of the market."
Rushcliffe Borough Council said a public consultation on the plans closed on 23 December. It received the planning application in October.
The council gave the go-ahead to the change of use from an off-licence to a cafe.
However, not everyone was opposed to the plans and Mike Ball started a rival petition pointing out the building was otherwise empty.
Costa Coffee previously said its offering was different to independent coffee shops and cafes, and believed people could use both, depending on their needs.