Broxtowe retirement home closure resident left 'bewildered'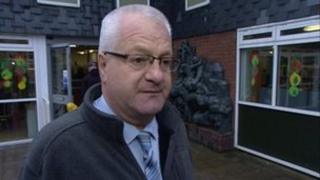 A 90-year-old man says he has been left "bewildered" by a council's decision to shut his accommodation.
Richard Thompson is one of 35 residents who have to move out of two retirement properties in Nottinghamshire.
Broxtowe Council said they were no longer fit for purpose and can now invest in affordable homes.
Valerie Thompson said her elderly father could not understand the move and is working with other residents to fight the proposals.
The council identified six sites to develop affordable homes, including Peatfield Court, Stapleford, and Wyndam Court, Chilwell.
It said the two centres, built in 1971, were no longer fit for purpose and it was impossible to bring the buildings up to modern standards.
There is no lift access and the communal staircases are too narrow to accommodate a stair lift, it said.
The council also said it would find new housing for all residents and would offer compensation..
But Ms Thompson says some of the alternative accommodation was unsuitable and it was unfair to separate the residents.
"He is going to miss all his friends. He is just bewildered (and) he can't understand why the council has done this," she said.
'Incredibly upset'
Sheila Newton, 66, lives in Peatfield Court in a flat above her 91-year-old mother Jean Pratt and will fight the proposals alongside Ms Thompson.
She said: "Everybody was incredibly upset when they heard the news, they were all in tears.
"There are people who have fought for this country in the Second World War living here. It's disgusting to treat them like this."
Council leader Milan Radulovic said: "We understand these proposals will have a massive impact on the lives of the residents of both the Peatfield Court and Wyndham Court retirement living schemes, and that's why we will be doing all we can to support the tenants during this time.
"The council will do all it can to minimise any disruption and ensure that more suitable, new homes are provided for all those affected residents."