Officials to meet to discuss Bingham Muslim attacks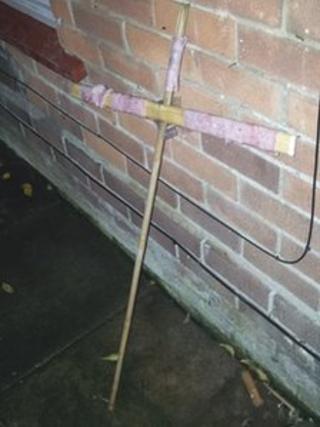 The deputy mayor of a town in which a Muslim family was racially abused has said local officials will meet to discuss the issues.
Murad Alam, 39, said his wife and two sons, aged eight and 10, moved out of their home in Bingham, Nottinghamshire, last month to a "safe" place.
A cross wrapped in ham was left outside the family's house and offensive graffiti was sprayed on a nearby path.
Deputy mayor Francis Purdue-Horan said the meeting would take place this week.
'Long-term issue'
Mr Alam described how he came home one day to find his sons plotting escape routes on the computer after the "horrific" attacks last year.
"The phone lines were cut, my children were called names in the street and a pensioner jabbed my son in the ribs and blew cigarette smoke in his face," he said.
Mr Purdue-Horan said he did not believe Bingham was a "hotbed of racist or religious tension" but he would be meeting with the chief executive of Rushcliffe Borough Council and other local officials to discuss the matter.
"The town council will work with various other agencies to work together to address anything that may need to be looked at in the future but that's more of a long-term issue, if anything is identified," he said.
"I don't think that Bingham or Rushcliffe has a serious problem, but let's wait and find out."
Mr Alam said when he first tried to inform Bingham Town Council after the first attack in November last year, they did "not seem very interested" and his call was not returned.
"This has changed our lives. My wife and kids had never suffered racism; I had to explain racism to my children and the concept that people didn't like each other because of the colour of their skin or religion.
"That was a really hard conversation to have."
Police appeal
The family has now moved to West Bridgford where they say they feel safe.
Nottinghamshire Police said a 13-year-old boy had been arrested in connection with the attacks but he was later released without charge.
Mr Alam said he had nothing but gratitude for the police involved in his family's case.
"Nottinghamshire Police fitted secret cameras, security lighting and, after the graffiti, they were literally parked at the end of the alley for days, 24/7.
"It's just a shame that no-one has come forward to name the people who are behind it," he said.
Mr Purdue-Horan echoed Nottinghamshire Police's appeal for anyone with information about the attacks to come forward.