Nottinghamshire County Council job losses 'affecting' services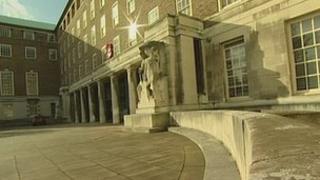 Nottinghamshire County Council has defended itself after criticism that its efficiency savings programme is affecting frontline services.
It follows figures showing the number of people employed by the authority fell by about 20% to just over 16,000 between September 2010 and March.
The Labour opposition said the council had cut too fast and too deep.
The Tory-led council said it was still offering help to the most vulnerable people in the community.
The authority's latest figures show its workforce fell from 19,958 in September 2010 to 16,114 over 18 months - a fall of 3,844.
'Essential jobs'
Alan Rhodes, leader of the Labour group, said: "These numbers are huge they'll impact directly on the council's ability to deliver services to our community.
"We recognise the need for efficiencies but the Tories have gone too fast, cut too deeply and in too shorter time, it's meant our communities have suffered as a result."
Martin Suthers, deputy leader of the county council, said the figures included teachers who have left local authority schools to work at academies, and denied it had gone too far in its cuts.
He said: "If you disregard schools, it's gone down from around 12,000 to around 9,000. We can still deliver frontline services."
He added that about 80% of redundancies had been voluntary, and only 230 compulsory, with some vacant posts not being filled.
However, Martin Sleath, Nottinghamshire Unison joint branch secretary, said the jobs that have gone are in frontline services.
He said they included posts in community and social care, day centres and youth offender work.
He added: "Whether they're voluntary or compulsory, they're essential jobs. They're not there to provide those services."