Everton farmland body: Second murder suspect released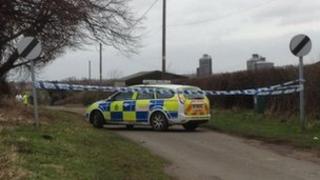 Police have released the second of six suspects arrested in connection with the murder of a man found on farmland in Nottinghamshire.
A 27-year-old man was released on Thursday evening. A 13-year-old girl was released on Tuesday - both without charge, officers said.
Three men aged 31, 22, and 21, and a woman aged 47, all from South Yorkshire, remain in police custody.
The man's body was found on Middle Cross Lane in Everton on Saturday.
It was discovered between Harwell Sluice Lane and Everton Lane.
Police said they had been granted more time to question three of four suspects remaining in custody who were arrested on Monday. The fourth, a 22-year-old man, was arrested on Wednesday.
Officers from South Yorkshire Police are helping with the investigation and detectives continue to try to identify the victim and trace his next of kin.
Anyone with information is asked to contact Nottinghamshire Police.