Nottinghamshire hospital trust promises changes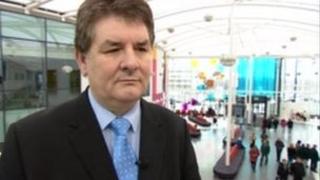 A Nottinghamshire hospital trust which is being investigated for high death rates has promised changes will be made.
The Sherwood Forest Hospitals Trust is one of 14 being monitored in the wake of the Stafford Hospital report.
Trust bosses said improvements were being made by introducing extra ward rounds and appointing a dedicated doctor for addressing mortality rates.
They said they would co-operate fully with an independent inquiry.
Eric Morton, interim chief executive for the trust, which runs King's Mill Hospital in Sutton-in-Ashfield and Newark Hospital, said: "It is quite right we should look at all the indicators, learn the lessons from that and apply them to all the hospitals.
"I don't believe anything has gone fundamentally wrong here. We do provide really good care and we take these indicators very seriously.
"There's always areas we can improve and should always be learning to improve our care.
"We have got an issue around the measures of hospital mortality but we are investigating."
Problems at the Sherwood Forest Hospitals Trust were first highlighted last year after the Dr Foster guide to hospitals showed higher than expected mortality rates in two categories.
The report used four mortality rate measures, including deaths after treatment and deaths in hospital care, to show which centres had a higher or lower rate than expected.
Mr Morton said a doctor had since been appointed to look into mortality rates at their hospitals and at how services were being delivered.
The trust also said there were plans to have more doctors on duty at weekends.