Hucknall Town sells virtual tickets to stay afloat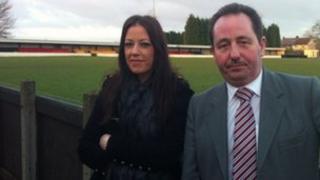 A struggling non-league football club is selling "virtual tickets" to people who will not attend matches in a desperate bid to stay open.
Hucknall Town, in Nottinghamshire, has an average attendance of 140 and needs to find £30,000 to keep playing.
Fans who buy the ex-colliery club's £5 and £10 online tickets get a mention on its website. Businesses can buy £500 corporate virtual tickets.
Acting chief executive Liz Morley said she was optimistic of saving the club.
'Incredibly loyal'
The team, nicknamed the Yellows, was established in 1943 and has been known as a family-friendly place since.
But it said it has struggled in the past 18 months and is appealing for community support to pay off debts.
It was left with a £50,000 tax bill in 2011 but managed to pay off almost half of the debt and has now set itself the target of £30,000.
Ms Morley said: "We are always optimistic at Hucknall Town. We will find a way. We will keep battling on, we've been battling for the last 18 months.
"We've got to carry on - the club means an awful lot to an awful lot of people locally.
"The 140 people that do come to support us are incredibly loyal to the club and it's really for them that we are trying everything in our power to keep it open."
Its Watnall Road ground has a capacity of 3,000, with a record attendance in recent years being about 1,800 at FA Trophy games.