Demolition of Victoria Leisure Centre building considered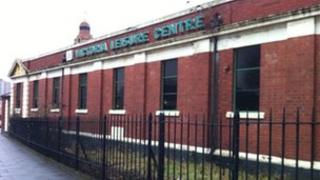 The demolition of part of an old leisure centre is to be considered by planners at Nottingham City Council.
A new £9m leisure facility opened in Sneinton in March, but the former Turkish baths building was not part of the redevelopment and lies empty.
The authority said razing the building would lead to opportunities to develop a site nearby.
The Nottingham Civic Society said it wanted to see it refurbished and incorporated into the centre.
Ian Wells, treasurer of the society, said: "It's extremely elegant, it's part of an old group of buildings that grew out of the 1890s to make the leisure centre complex."
A Nottingham City Council statement said the Turkish baths building was always going to be demolished as part of the new £9m redevelopment work.
The statement added: "This part of the old building blocks a route which we are keen to open up between Brook Street and Bath Street to encourage pedestrian flow and provide the opportunity to strengthen a development site close to the leisure centre."
The building is in a conservation area so the final decision would have to be taken by the secretary of state.
If approved, the authority wants to start demolition in the summer.