University of Nottingham's wind farm plans rejected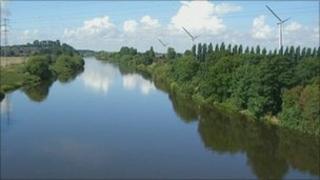 The University of Nottingham says it will consider appealing after its plans for a wind farm were rejected.
Planners at Nottingham City Council unanimously voted on Wednesday against plans for two turbines at Grove Farm, near Clifton Bridge.
Councillors said the turbines would impact on other development plans.
Plans for a further turbine had already been rejected by Broxtowe Borough Council. The university is already appealing against that decision.
Flight path
The plans for the three turbines were revealed in 2010 with the proposed site lying across the boundaries of Broxtowe and Nottingham City.
It is adjacent to the Boots Enterprise Zone, an area set aside by the Government to develop business.
Councillors said the site would impact on proposed housing and business development in the area, as well as existing properties in Clifton.
They also received objections from Sport England, who said the turbines may impact on existing sports pitches on the site, and East Midlands Airport, who said the site lay on a flight path and the turbines may interfere with air traffic control radars.
Councillor Chris Gibson, who chairs the planning committee, said: "The issues were specific to this particular application. In general we want to be welcoming to the idea of sustainable projects in Nottingham."
A spokesperson for the university said: "We're going to look at the decision of the committee in detail and it's possible we will appeal."