Environmental group opposes Gedling solar farm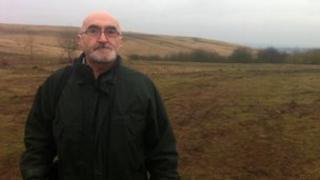 Environmental campaigners have said they are unhappy about plans for a solar farm on a former colliery site.
The Gedling Colliery has been unused for more than 20 years and plans have now been submitted for a country park plus an area for 23,000 solar panels.
Environmentalists said the area is a breeding ground for bird species including rare skylarks and lapwings.
The local authority said people had been given an opportunity to have their say on the plans last year.
Since the pit closed in 1991 it has remained as a grassland and there had been previous redevelopment plans for the area.
'Environmental vandalism'
Last year plans were submitted by solar farm developers, RE-Fin Solar and by Gedling Borough Council for a country park around the solar panels on the 14 hectare site.
Mark Glover, chair of the Gedling Conservation Trust said: "This area is a vital habitat for a wide range of threatened and rare species. To destroy it would be an act of environmental vandalism and gross irresponsibility."
Mr Glover, who is also a Labour councillor for Gedling Borough, added: "Green energy sources are urgently needed but not at the expense of biodiversity."
A spokesman for RE-Fin Solar said a qualified ecologist had worked with them to ensure harm to the habitat and species at risk were kept to a minimum during and after construction.
He added: "The former colliery site provides an excellent location for this solar farm, which requires an open and expansive area of land in order to generate the intended level of power.
"Solar farms can provide opportunities to create a positive environmental impact on wildlife, ecology and the wider environment as well as a substantial contribution towards reducing CO2 emissions."
Gedling Borough Council said that a consultation period on the planning application had ended and it was now looking at the responses to help inform the committee's decision on the application.