Nottingham's Forest Recreation Ground project restores railings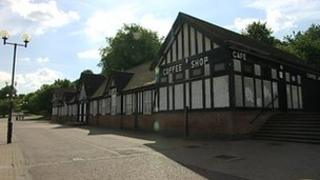 The latest stage of a major project to renovate one of Nottingham's parks is nearing completion.
In July 2012 it was confirmed more than £5m would be spent on the Forest Recreation Ground.
Recent work has focussed on the entrances, with cobbles and iron railings being reinstated.
The city council said the restoration of the pavilion and toilets, along with improvements to sports pitches, was due to be finished in April 2014.
The original park railings were removed during World War II to be melted down for metal supplies.
Councillor David Trimble, from Nottingham City Council, said: "Reinstating the railings around the park is key part of the Forest restoration, they are an important feature that will improve the overall appearance of the park and will help restore the site to its former glory.
"With an estimated 750,000 visits per year we want the park to be welcoming and for Nottingham people to feel proud of the city's heritage."