Nottingham gang culture poses 'significant challenge'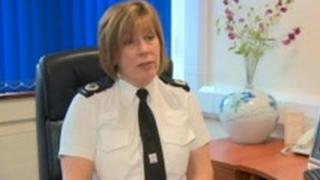 A senior police officer has said she is "deeply concerned" about the issue of street gangs in Nottingham.
Assistant Chief Constable Sue Fish said gang culture posed a "significant challenge".
Up to 200 men have been identified as members of five organised city gangs and there are now concerns of women getting caught up in the violence.
Officers, project workers and health professionals are now coming together to help the people involved.
ACC Fish, who spent two years working with the Home Office to tackle gang violence across the country, said: "There is a significant challenge to tackle gang culture but it is worth doing.
Glamorised and attractive
"Gang culture is something glamorised by TV, it is seen as an attractive way of life and often senior gang members are seen as role models.
"The role of a gang member is seen as one of being recognised and respected but it can be a short, nasty, brutal life and the respect they seek is not genuine respect."
She said violence was usually between criminal gangs and crimes ranged from drug dealing, street robbery, assaults, and even sometimes kidnapping.
A growing concern for Nottingham police is the number of women, aged between 13 and 24, becoming involved with gangs.
"We don't know yet the extent of how many girls and young women are being exploited by gangs," added ACC Fish.
"But it is worrying and I really want to protect young women and girls, and anyone in our city, who is involved with gangs, so understanding the culture is key."
In Nottingham, police are now joining with health professionals to help women who have been identified as gang members and offer support.
ACC Fish added: "Young people need to have a purpose, they need to have hope and we need to provide that. We need to protect young people and make sure they have a full and productive life, not a nasty, brutal and short one."