Nottinghamshire County Council budget prompts cash row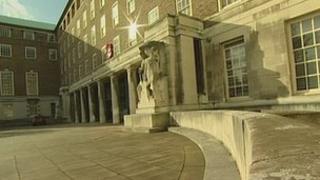 Rival parties have clashed over the financial management of Nottinghamshire County Council.
The Conservative-run authority is to debate a £512m budget which freezes council tax but forecasts a deficit of nearly £133m over the next four years.
Labour said the council was cutting too deeply and causing long-term damage.
The Conservative group has said reducing backroom costs means it can invest more in children's services and adult social care.
The authority has made savings of about £180m in the past four years, leading to around 2,500 council staff job losses.
'Draconian measures'
The proposed budget for the financial year 2013-2014 contains no further cuts but predicts in 2014-15 there will be shortfall of £46.5m, in 2015-16 a shortfall of £50.1m and in 2016-17 a shortfall of £36.3m.
Leader of the opposition Labour group, councillor Alan Rhodes, said the administration was guilty of "incompetence".
He said: "Since they came in in 2009, they have introduced the most draconian measures ever seen in local government, a programme of cuts, closures and redundancies, the like of which we have never experienced.
"And yet, at the end of their four-year term, we find they still have a £132m hole in the finances which this budget makes no attempt to address."
Care bill
While the Conservative group declined to directly answer the criticism, it had earlier defended its record.
Chair of the finance committee, councillor Reg Adair, said: "It's prudent management, not just this year but the past four years, that we have planned to be in exactly in this position where we can have stability in the economy of the council.
"Knowing that we had the pressures in the front line services we have had to plan to reduce our backroom costs, get the overheads of the council down and restructure our finances to be where they are needed most and that is the front line services."
The council said more money was particularly needed for both adult social care and children's services.
In the county there are about 900 children in care - double the number five years ago. The child protection budget now stands at £85m, up from £50m in 2008.