Police 30-year retirement clause use 'fair'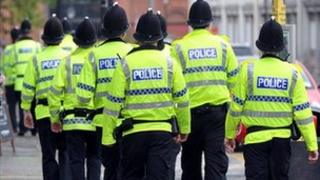 The forced retirement of dozens of officers from Nottinghamshire Police was part of a "clear and fair" process, a tribunal has been told.
Five forces are facing a legal challenge from officers who claim they were subject to age discrimination.
A clause in their contracts, known as A19, meant some staff with 30 years' experience were forced to leave.
But Jon Collins, former chairman of the Nottinghamshire Police Authority, said budget cuts forced the move.
Central London Employment Tribunal is hearing a handful of test cases on behalf of officers who were affected.
'Correct judgement'
Mr Collins told the hearing the authority was seeking savings of £42m when it approved the use of the clause in December 2010.
He said "We took the view that there was a clear and fair process in place for implementing the regulation.
"We recognised the impact that it would have on individual officers, and the fact ... that it was more likely to affect officers of a particular age group.
"However, the authority accepted that the need to ensure the ongoing efficiency of the force, against the background of the considerable budgetary pressures imposed, left us with no practical alternative."
The five forces involved are West Midlands Police, North Wales, South Wales, Nottinghamshire and Devon and Cornwall.
The hearing continues.