Clifton shops say tram works damaging business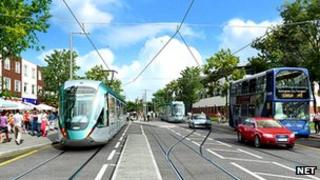 Businesses in part of Nottingham have said eight months of tram works could leave them struggling to survive.
The tram network is being extended to Clifton and Beeston in a three-year, £570m project.
Some traders in Southchurch Drive, Clifton, said preliminary work had already lead to a serious slump in custom.
Nottingham Express Transit (NET) said it intended to complete the work as quickly as possible.
From 11 March, Southchurch Drive between Swansdowne Drive and Green Lane will shut to allow pipes and cables to be moved and the installation of tram tracks and stops.
Lisa Withers, of Jocelyn Flowers florist, said early temporary traffic lights and fencing had affected the business.
She said: "We rely a lot on passing trade, catching people's eye with the nice stuff that we do. If we have halve the people going past, we have halve the people coming in.
"But even regular customers - I know three or four who have stopped coming because they could not face the hassle."
'Causing frustration'
Kevin Steed, of Paul Walker Butchers, said he had been forced to lay off two Saturday workers.
He said: "We will see what happens in the next couple of months but more staff might go. No choice - no one else is paying my rent, my gas, my electrics, my wages or tax.
"People we used to see every day, we now see once a fortnight. We are down £2,000 a week and the work is just starting."
Chris Deas, NET project director, said local shops had been a major part of the plans.
He said: "It is unfortunate the passing trade can't go immediately outside the shopping area but it is also important for people to understand that we are making available alternative routes, we are making available new areas of parking, we will ensure that people can get to the shops and the market will stay in the centre of Southchurch Drive.
"Yes, it is inconvenient, yes, it is causing some frustration, which we understand, but you will still be able to access all the facilities in Clifton."
Residents and businesses can find out more about the work at a drop in session at Clifton Cornerstone on 6 March.