Sherwood Forest Hospitals Trust appoints new chief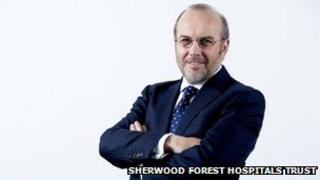 A financially-troubled Nottinghamshire hospital trust has appointed its sixth chief executive in two years.
Paul O'Connor, currently at Barnsley NHS Trust, will take over at Sherwood Forest Hospitals Trust from its interim chief executive Eric Morton in June.
Interim trust chairman Chris Mellor said Mr O'Connor would bring stability to the trust.
Sherwood Forest Hospitals Trust has had five chief executives over the past two years. Mr O'Connor is the sixth.
"We need an experienced, permanent CEO who can provide the continuity of leadership and direction that, until recently, has been sadly lacking," said Mr Mellor.
"In Paul O'Connor, I believe we have the right man for the job."
'House in order'
In September, NHS regulator Monitor raised concerns the trust was struggling to meet its PFI (Private Finance Initiative) repayments for King's Mill Hospital.
The trust runs two hospitals in Nottinghamshire - King's Mill and Newark. In 2006, work began on a £320m PFI expansion at King's Mill.
Monitor found the lack of income and the hospital being underused meant the trust was struggling to meet its repayments.
The trust currently has debts of £15m and has drawn up plans to save a further £13m over the next year.
"We're drawing up a recovery plan and that will go to Monitor," said Mr Mellor.
"We won't get a penny of support, nor should we get any support, if we can't convince our stakeholders and regulators we have done everything we can to put our own house in order.
"I believe Paul O'Connor will be very helpful in doing that."
The trust is also one of 14 being investigated for high death rates in the wake of the damning report on the NHS over its handling of the Stafford Hospital scandal.
Mr O'Connor initially joined Barnsley Hospital NHS Foundation Trust on an interim basis was was appointed as permanent chief executive in 2010.