Four escape Nottingham house fire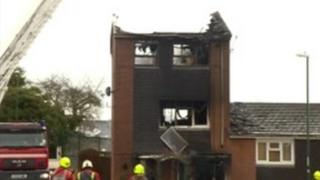 Firefighters say they are still unclear as what started a blaze that gutted a house in Nottingham.
The house in Pippin Close, in the St Ann's area of the city, went up in flames at around 13:50 GMT on Monday.
All three floors of the house were ablaze and four people managed to escape unhurt.
Central station manager David Stevenson said they had spoken to the occupiers and investigations were underway to establish the cause of the fire.
Around 25 firefighters tackled the blaze for three hours.
Mr Stevenson added: "On route we could see a large amount of smoke so the crews knew before they arrived they had a significant fire on their hands.
"It was well developed when we arrived which is unusual for a house fire at this time of day, which made it very difficult to bring under control."
The four people who had been inside the property were treated by ambulance staff for smoke inhalation.