Archbishop's Palace in Southwell to open to public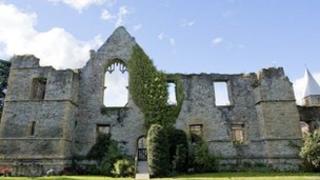 A historic Nottinghamshire ruin will open to the public for the first time following a £1.26m refurbishment.
The Archbishop of York's Palace, next to Southwell Minster, is the former home of Tudor statesman Cardinal Thomas Wolsey, who served under Henry VIII.
The money, from the Heritage Lottery Fund, will be used to stabilise the ruins and improve access to the site.
The work is expected to be completed in two years.
The Dean of Southwell, the Very Reverend John Guille, said: "This is a very historic site. The palace was used by King Charles I, as well as Cardinal Wolsey.
'A sleeping beauty'
"Before it was a palace, it was a Roman villa."
He said that while the majority of the site was in ruins, some parts of the palace, such as the historic state chamber and the song school, were largely intact.
The refurbishment will allow the Minster to display many of its treasures, including papal seals and a Turner watercolour, to the public for the first time.
It will also create a sensory garden in the grounds and improve the kitchen facilities, allowing the venue to stage functions such as weddings.
The Minster, which is carrying out the work, hopes the palace will attract more than 1.5 million new visitors to the town over a ten-year period.