King's Mill Hospital 'prioritised money over care'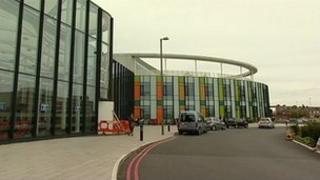 A hospital where women with breast cancer were given faulty test results prioritised money over patient care, a report has said.
The Care Quality Commission inspected King's Mill Hospital in Nottinghamshire after test errors meant some women did not receive the most appropriate care.
It reported poor communication and management, outdated equipment and said "finance appeared to take priority".
The hospital, in Sutton-in-Ashfield, said improvements had since been made.
The CQC's report, published jointly with the Royal College of Pathologists, looked at concerns the treatment of breast cancer patients between 2004 and 2011 was based on incorrect test results.
'Finance driven'
The concerns were raised by Sherwood Forest Hospitals NHS Foundation Trust, which runs the hospital and carried out its own investigation.
It found 120 women between 2004 and 2011 could have been given the wrong test results, meaning they were denied the best treatment.
The issues relate to an oestrogen receptor test, which detects whether patients would benefit from hormone treatment.
A number of women who received treatment during that period have since died of cancer but it is not known if any of these deaths were as a direct result of the problems.
Everyone who was affected has been contacted directly by the hospital.
The report said: "It became apparent during the visit, interviews and document review that decision making was finance driven, with too little attention given to clinical considerations.
"The NHS is run for the benefit of patients, but takes cost into account.
"However, in Sherwood Forest Hospitals NHS Foundation Trust, finance appeared to take priority."
It outlined six main failings:
poor communication between pathologists and the trust's board of directors
the pathology department was without a leader for five years between 2003 and 2007
equipment used by the department was identified as outdated
decision making in the clinical governance committee was not always clear
the hospital's action plan in relation to mortality rates was not being clearly monitored
processes to spot changes in performance or risk were not robust enough
The report also highlighted the organisation of pathology departments nationally and their workloads and has made recommendations to the government.
Dr Andrea Gordon, from the CQC, said: "Women already enduring the stress and trauma of cancer have been at the centre of these issues and the trust has been liaising with people affected by this.
"During our own inspection we found patients spoke positively about their care and treatment and we have been receiving updates from the trust on the work it is doing to improve."
The trust stressed a new management team was now in place and the culture was changing.
It admitted it had been a failing organisation but said improvements had been made.