Mansfield pub glass attack victim wants plastic cups used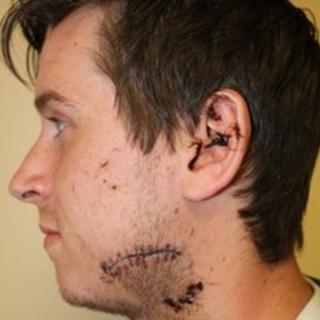 A man who was seriously injured in a glassing attack has called for pubs and bars to change how they serve drinks.
Marcus Fisher, from Mansfield, Nottinghamshire, has been left permanently scarred after he suffered cuts to his face and ear.
He now wants bars and pubs in his hometown to use plastic cups and bottles after 21:00 BST.
A 22-year-old man was found guilty at Nottingham Crown Court on Wednesday over the attack last summer.
Mr Fisher, 21, had been watching an England football match with friends at a Mansfield pub in June when a glass was launched into his face.
'Constantly on guard'
He was taken to hospital with a three-inch gash to his cheek and another to his neck and had to have parts of his ear glued back on.
He said he is now constantly on his guard on a night out.
Mr Fisher and his mum Amanda have now launched a campaign under the name No Glass No Smash.
"I'm not asking for a blanket ban," said Mrs Fisher. "I'm asking for all pubs and clubs from 9pm in the evening to have [plastic] glasses to keep people safe, and not to have anyone else go through what me and my son have gone through the last nine months."
Jamie Lee Burbank, 22, of Chaucer Street, Nottingham was found guilty of wounding with intent to do grievous bodily harm on Wednesday.
He had previously pleaded guilty to unlawful wounding and will be sentenced next month.
Jonathan Edwards from MALV (Mansfield Association of Licensed Venues) said a blanket ban on glasses was "unfair on the law-abiding majority".
He said: "We have to remember that this unfortunate incident was an isolated occurrence.
"Mansfield continues to get safer and safer each year. By making all venues use plastic glasses would send out a very different message to the people who enjoy themselves and feel very safe every weekend.
"Each venue should be judged on its own merit. If a venue has regular incidents involving glass, we 100% believe that Mansfield Police and Mansfield District Council would review that venue's licence without hesitation and polycarbonate alternatives would be enforced."