Field Farm green belt housing plan approved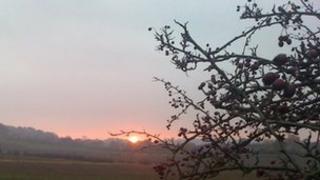 Plans to build 450 homes on green belt land in Nottinghamshire have been approved, despite local opposition.
Broxtowe Borough Council said the scheme, for Farm Field near Stapleford, would help meet a serious shortfall in housing.
But protesters claim the development would effectively link the town with nearby Trowell and the extra traffic would put a strain on roads.
The plans will now be referred to the Secretary of State.
'Incredibly angry'
Farm Field has been the focus of development plans for more than a decade but campaigners have defeated previous proposals.
In a heated debate, the Labour-run council voted to back the latest plan with leader Milan Radulovic accusing protesters of being "nimbys".
Zoe Cockroft, who chairs the Stapleford and Trowell Rural Action Group, said: "We have never been nimbys, we are looking after the greenbelt for everyone.
"I'm incredibly angry and this isn't the end, we will fight it every way and will campaign for it to be discussed at public inquiry."
Mr Radulovic said: "Everyone that comes to object to development doesn't want it next to them.
"I understand the frustration, but they all live in houses built on fields that people used to play on once, and they [protesters] don't want others to have that opportunity [to live in a new house]. I find that disappointing."
Since the plans means building on green belt land, it will be referred to Communities Secretary Eric Pickles.
Broxtowe Council is looking to build more than 6,000 homes over the next 15 years.