DH Lawrence article's 'enlightened' attitude to women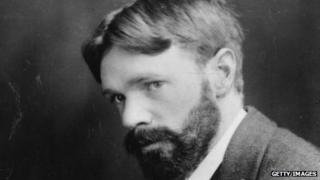 A previously unpublished article by DH Lawrence shows him defending women from a misogynistic attack, an expert on the writer has said.
The manuscript by the Eastwood author was discovered by Dr Andrew Harrison, a Nottingham University lecturer.
In the article, Lawrence reprimands a fellow writer for regarding a beautiful woman as "a piece of lurid meat".
Dr Harrison said he hoped the piece would make people question assumptions about Lawrence's supposed sexism.
The English literature lecturer discovered the piece in February, after being asked to study a collection of papers bought by a New Zealand library.
The papers belonged to John Middleton Murry, the husband of New Zealand author Katherine Mansfield.
Lawrence, the author of Lady Chatterley's Lover and Women In Love, was friends with the couple and contributed to The Adelphi, a monthly journal edited by Murry.
'Terrible, unmentionable evil'
The 185-word article by Lawrence was responding to another article in the journal called The Ugliness of Women by a man called JHR.
JHR, thought to be an electrical engineer named John Hall Rider, had written of the horrified reaction he felt towards beautiful women.
He wrote: "In every woman born there is a seed of terrible, unmentionable evil: evil such as man - a simple creature for all his passions and lusts - could never dream of in the most horrible of nightmares, could never conceive in imagination."
In response, Lawrence wrote: "The hideousness he [JHR] sees is the reflection of himself, and of the automatic meat-lust with which he approaches another individual.
"Even the most 'beautiful' woman is still a human creature. If he [JHR] approached her as such, as a being instead of as a piece of lurid meat, he would have no horrors afterwards."
The piece, which Dr Harrison published on 29 March, is thought to have been written in London between 12 December, 1923 and 5 March, 1924 - during Lawrence's brief return to Europe from Mexico.
Dr Harrison said he thought Murry may not have published Lawrence's piece because it was libellous or too outspoken.
He added: "A new find like this is pretty rare. It reveals Lawrence's enlightened attitude to gender issues, and his acuteness in detecting and exposing sexist attitudes."