Rejected White Post Farm lambs adopted by goat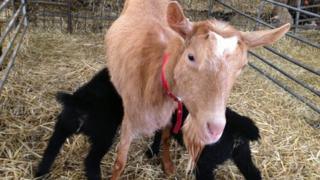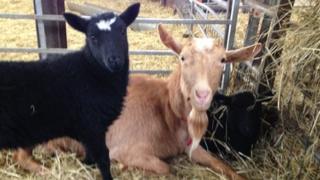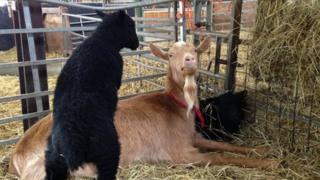 Two lambs rejected by their mother have been adopted by a female goat.
The birth mother of the twin Manx sheep would not feed them when they were born two and a half weeks ago.
But Geraldine the golden Guernsey goat treats the Manx sheep as her own offspring - even letting them drink her milk.
The unusual family-of-three live at White Post Farm in Farnsfield, Nottinghamshire, where staff said they are a strange sight.
'Relaxed goat'
Anthony Moore, one of the farm managers, said: "It took a little while but it's amazing how well they have bonded.
"We were bottle feeding them but we were very keen for them to have a mum so thought we would give Geraldine a go at being a sheep.
"She's such a relaxed goat we thought we would give it a try."
The twins, which have not been named yet, are a girl and a boy and were introduced to Geraldine 12 days ago, for a few hours at a time to begin.
Now the lambs even climb on top of Geraldine, as they would with a mother ewe.
"It looks very strange seeing a little lamb on a golden Guernsey goat," said Mr Moore.
Geraldine gave birth to a male kid earlier this year but he is now being used for educational demonstrations.