Maplebeck farm death: Husband 'had flood obsession'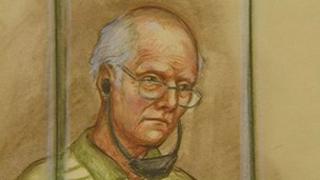 A farmer strangled his wife after becoming convinced his home would flood in heavy rains, a court has heard.
Peter Thurgarland, 72, who has been ruled unfit to stand trial, is accused of murdering his 70-year-old wife Julia at their farm in Maplebeck, Nottinghamshire, in December.
Nottingham Crown Court heard Mr Thurgarland had dug ditches and stacked furniture in case of flooding.
The jury heard he was currently being treated in a secure psychiatric unit.
'Severe depression'
Opening the finding of fact hearing, prosecutor Michael Auty QC said the Thurgarlands' farm had been flooded in 2007, leaving the family living in a caravan for 18 months.
The couple had been married for more than 45 years but in the months before the alleged murder, Mr Thurgarland's son David had grown concerned about his father's mental state.
He was due to go for a psychiatric assessment on the day of his wife's death, after attempting to smother her a few weeks earlier, the court heard.
"Unfortunately, he never kept the appointment," Mr Auty added.
On 28 December the couple's daughter Jayne O'Connell found her mother on the floor of the living room and her father slumped unconscious in a chair nearby.
Paramedics pronounced Mrs Thurgarland dead at the scene and her husband was airlifted to hospital.
A post-mortem examination found she had died from strangulation.
Mr Thurgarland was charged with his wife's murder after confessing to police, the court was told.
In March, Nottingham Crown Court heard he was suffering from severe depression and psychotic episodes and he was deemed unfit to stand trial.
Judge Gregory Dickinson told jurors psychiatrists had concluded Mr Thurgarland had severe depression and elements of psychotic illness including delusions.
"If you decide he did it (killed her) I will make an order formally remanding him into hospital where he will remain and be treated until the point where he is fit to stand trial normally," Judge Dickinson said.
"If you decide he is not responsible, he is entitled to be discharged."
The hearing continues.