Nottingham hire bikes used 'by one person a day'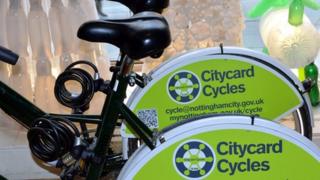 An average of just over one person a day is using a cycle hire scheme set up by the city council in Nottingham.
Figures show the Citycard Cycles scheme has only been used about 125 times since March.
The £350,000 scheme, which was initially funded by the Department for Transport, was launched in October.
Nottingham City Council said the scheme was different to the "Boris bikes" scheme in London and would develop over the next two years.
'Testing the waters'
London's bicycle hire scheme earned its nickname from the Mayor Boris Johnson.
Sue Flack, the city council's director of planning and transport, said: "We're not doing the same thing they did in London with the Boris bikes.
"We haven't got as many destinations where you can expect a lot of people will want to bike to.
"We'll be building the scheme up over the next couple of years."
Nottingham's scheme allows people to hire one of 300 bikes from stands around the city, including Nottingham Station, the castle and the Broadmarsh bus station.
When the scheme was launched, the council said it expected to spend no more than £50,000 a year to keep it running.
The bikes cost around £5 a week or are free for people with a Kangaroo travel pass.
Ms Flack said the council would bring in more docking stations over the next two years.
"We will be trying to orientate the whole scheme around where people want to go," she said. "We're testing the waters as we go."
Ms Flack said the figures suggested more people were hiring the bikes long-term than by the hour. She said the council was working with employers around the city to try to make it easier for people to cycle to work.