Joseph Tauya jumped from window after brain surgery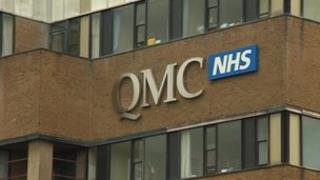 A man threw himself out of a Nottingham hospital window after brain surgery, an inquest has heard.
Joseph Tauya, 55, of Braunstone, Leicester had a tumour removed at the Queen's Medical Centre at the end of February 2012.
The first day of evidence at Nottingham Coroner's Court revealed he became agitated after steroid treatment and smashed the fourth floor window.
Despite the efforts of staff, he fell to his death.
The inquest heard steroids are commonly used to reduce swelling in such cases but had well-known side effects such as severe mood swings.
A junior doctor and two nurses gave evidence that before the operation Mr Tauya had been polite and approachable.
After he became agitated and loud, quoting passages from the bible.
In a statement, his family said Mr Tauya was "a great father" and had no history of mental illness.
The inquest is expected to last a week.