Nottingham owners offer reward for stolen meerkats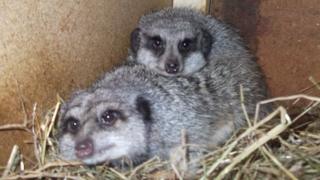 A Nottingham couple are offering a £500 reward after a pair of meerkats was stolen from their back garden.
The male and female meerkats, named Iggy and Ziggy, were taken on 21 May from an enclosure at their home in the Rivergreen area of Clifton.
The thieves also stole the hard-drive from owner Colby Wilson's CCTV camera and left a duvet cover in his garden.
Mr Wilson believes the thieves may have used the bedding to carry away his exotic pets.
The animals were discovered missing at about 07:15 BST, some six hours after Mr Wilson had last checked on them.
Skunk relief
"The thieves knew what to look for," he said.
"We thought they had got away with a skunk as well but we found her in the garden later on."
Mr Wilson said he and his partner Amanda Mewse bought the meerkats six months ago, to add to a collection of exotic pets that includes flying squirrels and silver foxes, as well as other meerkats.
He takes some of the animals to schools and charity events.
"For us, it's not about how much these meerkats are worth," he said.
"They are our pets. Our two children are really attached to them."
Insp Nick Waldram, neighbourhood policing inspector for the Meadows and Clifton said: "The owner of these animals is distraught they have been stolen and, as they are group animals, they could be in some distress.
"If you know anything about where they might be, please get in touch."
Nottinghamshire Police said anyone with information should contact 101.