Newark house blast: Man and parrots living in garden shed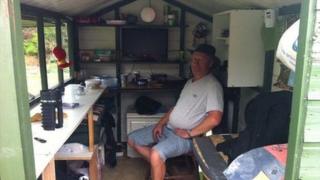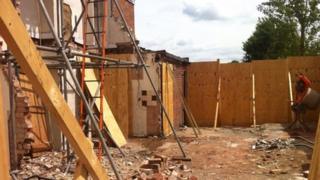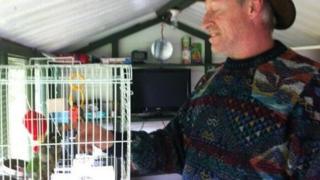 A man and his two parrots are living in a shed after his house was declared "unsafe" because of an explosion that killed two people.
Jim Massey was offered a flat but chose to stay in his garden because he wanted to "stay connected" to his house.
Leslie Rourke, 71, and daughter-in-law, Jeanette Rourke, 40, died in the blast in Wright Street, Newark, Nottinghamshire, on 19 May.
The cause of the explosion is still unknown.
Mr Massey said: "It's still a shock to all of us because we are all waiting for answers.
"You think... what has caused this explosion if it's come from a cellar? They are thinking 'Is there something in these cellars we don't know about?' I would think so anyway."
Mr Massey has a camping stove and television in his shed and he sleeps on two sofa cushions taped together.
He has been told it could be three months before he could move back into his house, which was declared "structurally unsafe".
About 100 people had to leave their homes after the explosion, but most were allowed to return within hours.
Four other people were injured, including Mrs Rourke's husband Nick.
Two houses either side of the exploded house are being demolished but two others will require further surveys before a final decision is made about whether they can be reoccupied.
'Pushed against door'
Maria Hanson and her two-year-old granddaughter, Tiana, were making dinner when their neighbour's house exploded. She lives three doors down.
"All of a sudden the air was sucked out of the house," she said.
"It happened within seconds and then it suddenly filled with air again, and there was this loud bang.
"It pushed me against the door [which left] a bruise on my leg."
Mrs Hanson said people in the street needed to know what caused the explosion in order "to heal".
"We've been assured many times that we are safe but for our own piece of mind we need to know what caused it so that we know in ourselves that we are not in danger," she said.