Malakai McKenzie shooting: Two men cleared of murder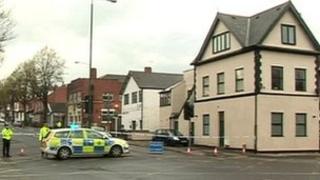 Two men on trial over the shooting of a teenager outside a Nottingham pub have been cleared of his murder.
The judge at Nottingham Crown Court directed that Malcolm Francis, 19, and Ijah Lavelle-Moore, 21, both of Basford, should be found not guilty of murdering Malakai McKenzie.
Mr McKenzie. 19, was shot outside The Hubb in Sherwood on 21 April 2012.
Cameron Cashin, 21, of Liddington Street, Basford, remains on trial accused of his murder.
Earlier in the trial, the court heard that gang rivalries led to a vendetta between the shooting victim and Mr Cashin, which included two previous attacks.
Four flashes
Gang tensions led to Mr McKenzie stabbing Mr Cashin in the arm during a fight, the court was told.
The prosecution said this prompted at least five reprisal shootings in three months, two targeting Mr McKenzie.
Events came to a head outside The Hubb.
The jury was shown CCTV footage of four hooded figures approaching a car containing Mr McKenzie, his brother and two cousins.
In the footage, one of the figures can be seen raising an arm and four flashes are visible.
The prosecution claims this was Mr Cashin firing the fatal shots.
The trial continues.